Ultravox reunion? Robbie Williams re-joining Take That? The pound at 1.10 euros? Naaaaah forget all that, big news of the moment is an almost Cabaret Voltaire re-union / resurrection /
resuscitation
.
I quote from
side-line.com
:
The Southampton (UK) based label Shiva Records announces us the return (

not reunion) of the Sheffield based cult act Cabaret Voltaire. In January 2009 Shiva Records will release the first new work by Cabaret Voltaire since 1993, which is actually a re-working of key tracks from the debut album by the Shiva Records act Kora. Cabaret Voltaire have also lined up select shows for 2009, dates are yet to be confirmed.

and from metro.co.uk :

Cabaret Voltaire founder Richard H Kirk has intricately crafted a cut-and-paste 'collage' based on the 2007 debut album by Maori dub rock outfit Kora (hence the title). That might sound weird but his artful touch ensures these drawn-out tracks are also brilliantly listenable. It brings to mind the Mad Professor's 1995 dub reworking of Massive Attack, No Protection, taking on new life with vocal segments, electronic effects and hefty basslines.....
In its own way, it's danceable, too; party soundtracks don't get more surreal than this.
Indeed.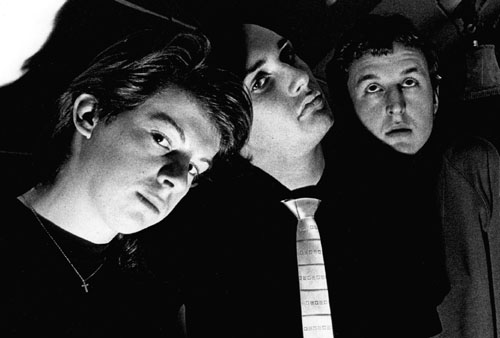 Cabaret Voltaire circa 1978 "Do we look avant-garde in this?"



Cabaret Voltaire fanspace
CV on brainwashed.com
Kora CD at play.com
Thanks to RadioBeach and evilC for their tip-offs ;-)