In the run-up to the release of Jean Michel Jarre's new album
Electronica - Part 1
we are looking back over the French electronic music maestro's major albums. Today it's the turn of his second studio album, the follow-up to
Oxygene
.
EQUINOXE
(Disques Dreyfus, vinyl, 1978)
Looking for a follow-up: the
'Equinoxe' album front cover
In the previous post we drew comparisons between Jarre's debut O
xygene
and Oldfield's
Tubular Bells
, two highly individual and unique
opera prima
which eventually met with huge success in their respective times. Likewise, both artists were left with a similar dilemma afterwards: how to follow it up? Whereas Oldfield had the backing of the fast growing Virgin records, Jarre remained faithful to the rather less huge Dreyfus Records in France, but arguably came up with a more worthy successor, compared to Oldfield's less convincing
Hergest Ridge
. But this was 1978 and the music world was changing fast in Europe, and crucially in the UK. Although punk had proved to be a flash in the pan, it had sparked the 'new wave' on both sides of the Atlantic bringing forward a whole range of new groups from The Police to Blondie to The Stranglers and so on. But Jarre stuck to his guns, and to his successful all-electronic, no lyrics, long instrumental tracks to produce his second album
Equinoxe
, which came out at the end of '78.
Expectations were high, yet reviews were less favourable and the public's reaction initially even less so. The album was released in December, possibily in an attempt to exploit the Christmas market, although ultimately
Equinoxe
was rather swamped by it. At least in the UK, Christmas shoppers preferred to spend their money on the
Grease
OST album (thirteen weeks at no. 1), compilation albums by certs such as The Carpenters and Showaddywaddy, plus new albums by big names like Rod Stewart and Queen. Yet patience was the name of the game for
Equinoxe
and the album did eventually reach the Top 20 end of Jan into Feb. of 1979, spurred on perhaps by the release of the
Equinoxe V
single which was played often enough on the radio (as I recall, usually to fill in gaps before the news bulletin), yet itself failed to go Top 30 (or even 40). The album peaked at no. 11 , but clocked up 26 weeks in the UK Top 75. Like
Oxygene
, it sold
beaucoup
.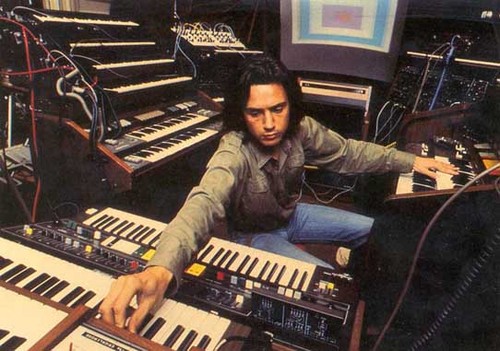 Reaching out to the future: Jarre in the studio, ca. 1978/79
The album is structured much like
Oxygene
- a completely instrumental work, this time divided into eight parts. Overall there seems to be more coherence compared to its predecessor, with the repetition of musical themes and structures, something which was missing last time. For those who don't know an 'equinox' is that time of the year when the hours of light and dark (day and night) are equal - you get one in Spring and one in Autumn. Jarre's opus (apparently) represents one day from morning til night and indeed we do start with a low pitched drone (the silence of night) followed by a crescendo of synthesisers representing the dawn - that's Part 1. We continue with a slow start to the day ( a leisurely breakfast?) in Part 2, followed by a slightly more lively Part 3 (later re-purposed as a 'waltz' for a 7" B side release). But it's in Part 4 that the day really gets going, and is one of the album's strong points - an almost danceable composition where Jarre pulls out all the synthetic stops to end the first 'side'. Perhaps unsurprisingly it was also remixed and issued as
a 12" "extended" version
- one of the first of its kind. Turning the record over and o-oh, the weather's turned bad. But no matter as the rain and thunderclap opening on Side Two herald the 'single' Part 5 (again the 'catchy one is strategically placed here) and we're singing and dancing in the rain. And keep it up for Part 6, personally one of my favourites. The
allegro con brio
electro-rhythms continue and the sound is even close to that of early synth-pop which would come to light a few years into the future. Part 7 slows things down a little, but there's never a dull moment on
Equinoxe
and we are once more uplifted to dizzy, dancing heights with a tune made for the type of large open air concerts, which Jarre would later come to embrace. We slowly come to rest between Part 7 and 8 and, as the rain continues, drift into a kind of dream sequence where a fairground organ plays under the pouring rain before fading away into a final winding down ('chill out' as it would be called much later) and a final slow-mo repetition of the 'Part 5' theme as we drift back into our nocturnal slumber.
The success of Jarre's first two albums would later translate into his first live performance as a solo artist
in Paris on Bastille Day in 1979
, drawing his first record-breaking crowd of one million (how do they count them?). How much was actually played 'live' on equipment which was still notoriously unreliable and unsuitable for such events is debateable, yet Jarre had dome something amazing. he had brought instrumental electronic music to the masses, preparing them for a further revolution which was yet to come.
Where to hear it:
Equinoxe
has recently been re-released on CD (2014) and vinyl LP (2015) by Sony Music,available from usual retailers. It can also be streamed
via Spotify
.