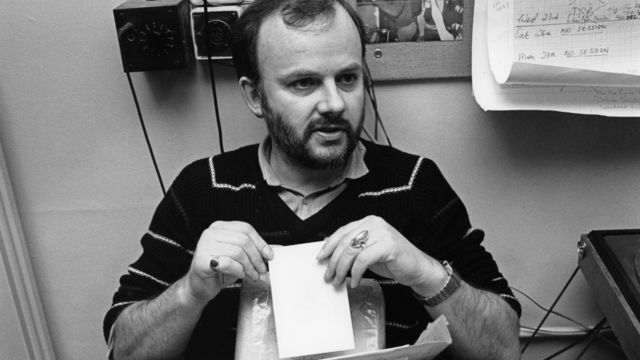 Now then, how many of you remember staying up "late" (after 10 p.m. was "late") to listen to the
John Peel
radio show of a weekday night, late 70s/early 80s? Well, for the uninitiated John Peel's nightly show was the place for the real alternative post-punk music that was going around at the time - you'r hear stuff here that you would not hear anywhere else, not even on Kid Jensen. Most of the stuff was so obscure that it basically remained such although the late, great Mr. Peel was famous of course for championing (he even championed the verb "to champion") many an obscure band who then went on to become quite successful, eg. Siouxsie & the Banshees, Generation X, XTC, The Undertones, The Jam, Joy Division and the like.
Each night Peely also featured usually two different "sessions", ie. bands who had gone in to the BBC studios to record three or four tracks especially for the show. These were often religiously taped and duly bootlegged, although many have already seen the light of day since as
official releases
(OMITD, Ultravox, Gary Numan, New Order to name but a few).
Anyway here comes possibly the first official 'Best of Peel sessions' release:
Movement
brings together many of those bands and more from the all-important 1977-1979 period. There's quite wide range of styles, not just the new-wavers but also ska from the likes of Madness, The Specials and Selecter and reggae from UB40, Aswad and Steel Pulse - all styles which were covered by Peel.
Of note to LiM is the inclusion of
Being Boiled
by The Human League, recorded for their only session in 1978 which has never had an official release, only bootlegs. So here's hoping it's been properly dusted down for the occasion. It's a unique version in that it's kind of half way between the original Fast version and the radically re-vamped
Holiday '80/Travelogue
version. Well,
Blind Youth
geeks will know what I mean anyway.